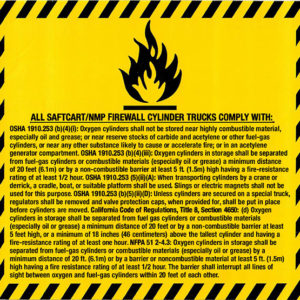 Firewall Facts:
At least 60″ tall, obstructs the line of sight from oxygen cylinders to fuel gas cylinders, and has a burn rating of 30 minutes.

Meets and Exceeds Current OSHA 1910.253 Standards — Do Not be Fooled by Impostors.
Can be sold as a stand alone product for adding to your existing carts.
Certification papers for your files.
Available in cylinder carts and cages.