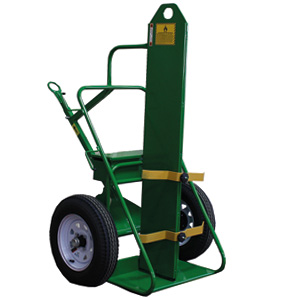 The 554-30-FW adds firewall protection to its beefy auto tires to provide the safety you need while simultaneously allowing you to navigate the roughest terrain with ease. Featuring a lockable toolbox, hose wraps and a lifting eye, this cart is ideal for construction and industrial sites, utilizing two 1/4″ permaclamps to secure cylinders.
Baseplate: 12″ x 24″
Height: 65.25″
Width: 31″
Weight: 175 lbs.
Wheels: SC-12
Cylinder capacity: 9.5″, 12.5″
Lifting eye: 1,000 lb.