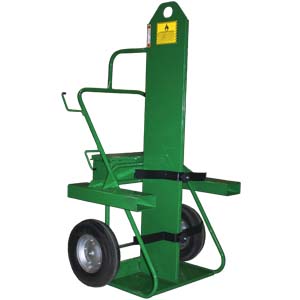 The 552-16-FW-FL-FF adds forklift stirrups to maximize mobility while providing excellent firewall protection. Built from heavy-duty square steel tubing, these forklift stirrups are built to last, providing years of service. Though 16″ pneumatic tires are standard, any set of wheels can be added to this cart.
Baseplate: 12″ x 23.5″
Height: 65.25″
Width: 33.5"
Weight: 188 lb.|
Wheels: SC-11
Cylinder capacity: 9.5″, 12.5″
Lifting eye: 1,000 lb.