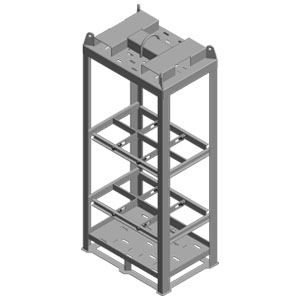 The C6-FL is a cylinder bank designed to hold six 9.5" high-pressure cylinders, allowing you to maximize your ability to maintain your cylinders. The C6-FL is designed to move only by forklift or pallet jack, utilizing the lifting eye or the forklift access on the top and bottom, ensuring safe and easy movement of your cylinder cradle.
Manifold sold separately; just specify the CGA number when ordering.
Height: 77.31″
Width: 32"
Depth: 22"
Weight: 310 lbs.
Cylinder capacity: 6 ea.
Weight capacity 1,950 lbs.