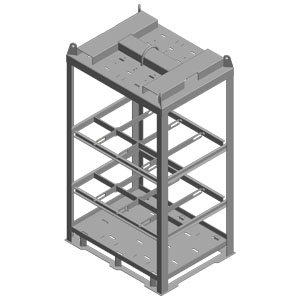 Designed to link twelve 9.5" high-pressure cylinders together into a single gas unit, the C12-FL is a stationary, yet highly mobile, cylinder bank. Movable only by forklift or crane, utlizing the lifting eye or the forklift access on the top and bottom, the C12-FL ensures safe and easy movement of your cylinder cradle. Available with or without a manifold; just specify the CGA number when ordering.
Height: 77″
Width: 32″
Depth: 42″
Weight: 412 lbs.
Cylinder capacity: 12 ea.
Weight capacity: 2950 lbs.