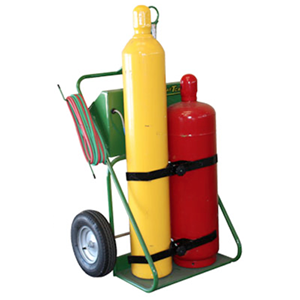 Designed to secure your entire cutting unit, the 1324 IIE is the original Saf-T-Cart. Its lockable cabinet allows regulators, torches and tips to become a part of the unit and secures them with a lockable door, eliminating the need to break down and reinstall the unit daily, saving you time and money. Comes standard with a lifting eye, permaclamps, pigtails, oxygen and fuel gas fittings. Also available with a firewall; just ask for the 1324 II-FW.
Cart Specs
Baseplate: 13" x 24"
Height: 62"
Width: 37"
Weight: 115 lb.
Wheels: SC-11
Cylinder capacity: 9.5" x 12.5″
Lifting eye: 1,000 lb.
The cabinet on the 1324 IIE is designed for easy set up. All you have to do is add the cutting outfit and regulators and you're on your way.